Blackblot Product Definition Team Model
Product definition is a critical starting point in the delivery of any new product. In many companies, there are recognized product development teams and processes, but a clear concept and establishment of a product definition team and process is often absent.
The lack of a cross-departmental product definition team and a market-driven product definition process to match, may lead to misconceived products with lower success rates. Without a clear guide on how to build, define and structure the individual roles in a product definition team, coupled with a structured and documented process to follow; there is a very strong chance of a highly inefficient product definition process taking place.
This inefficiency can be successfully countered with the concept of a well-defined team of individuals (belonging to both the product management and engineering departments) that have different roles and different domains of expertise, which follow a structured, repeatable product definition process.
For more information, please read the "Product Definition Team" chapter in the Blackblot PMTK Book.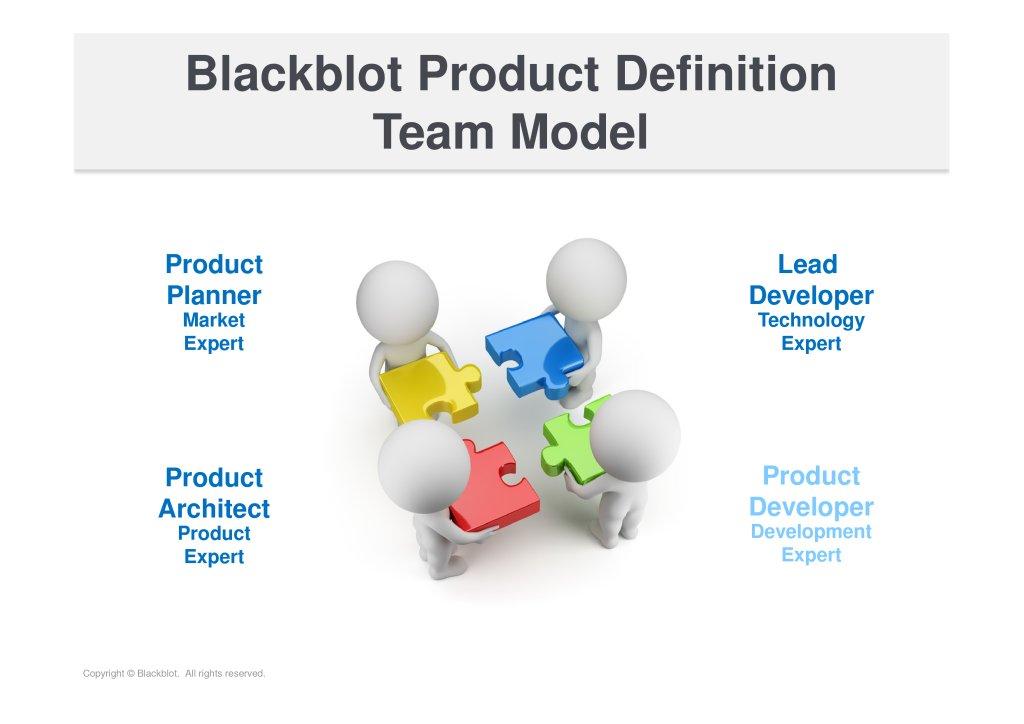 | | | | | |
| --- | --- | --- | --- | --- |
| Role | Responsibility | Product Frame | Deliverable | Expertise |
| Product Planner (Strategic Role) | Articulate market problem | Market Requirements | MRD ("What to solve?") | Market Expert |
| Product Architect (Tactical Role) | Devise functional solution | Product Requirements | PRD ("How to solve?") | Product Expert |
| Lead Developer (Technical Role) | Design product implementation | Product Attributes and Specifications | Tech. Spec. ("How to build?") | Technology Expert |